Direct Routing & Advanced calling options for Microsoft Teams
Microsoft Teams is already heavily used in many organizations for chat, peer to peer calling and conferencing. The next step is to integrate telephony into Microsoft Teams by adding Phone System features to Office 365. Microsoft provides rich auto attendant and queues and fixed price calling plans for domestic & international calling. With uCallManager you do not have to port your numbers to Microsoft and/or buy a Calling Plan. Optionally; uCallManager offers advanced features like uWallBoard (display queue status), caller ID features (set custom caller ID), Reporting, CallRecording and uContactManager for displaying contact information from your CRM/ERP/Helpdesk application.
Call routing based on availability information (presence), different huntingmethods, prioritization in agents and visible insight (uWallboard) of queues and call statistics. 
In addition to Teams users, SIP users can also be connected to uCallManager. This makes uCallManager a flexible platform for users, devices, doorbells, and fax machines.
uCallManager provides clear insight into service levels, waiting times, number of calls and productivity per employee through a simple, clear dashboard. 
(Agent)groups and departments
Office 365 groups can be used for uCallManager, but it is also possible to define your own groups and departments and add employees to these groups. Set up queues and determine the priority so that conversations can be answered by the most suitable employee.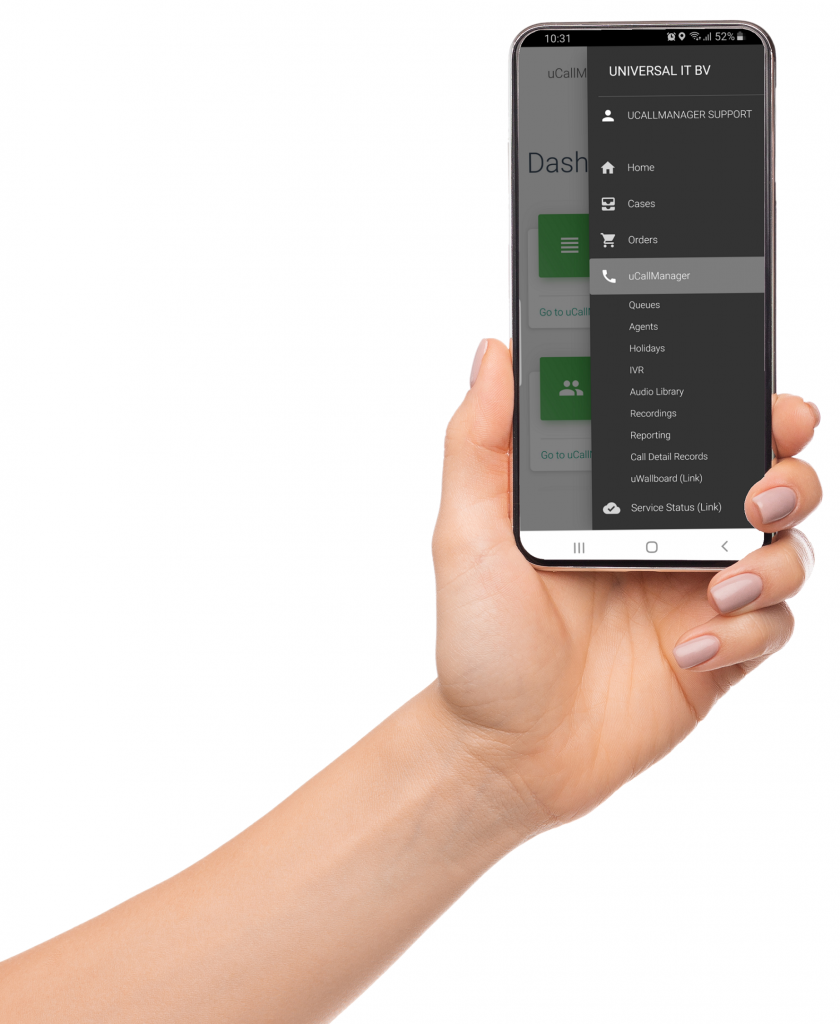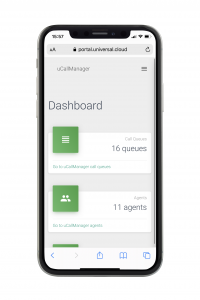 Servicetimes and holidays
The core element of a telephone exchange is to define  opening hours for your organization and the neccessary  action that needs to be automatically takenoutside the set times (voice mail, voice prompt, callforwarding). UCallManager provides a real-time, easy-to-manage portal that's available even from your mobile device.
With uCallManager, conversations can be recorded and listenend through the uCallManager portal; where conversations are logically organized.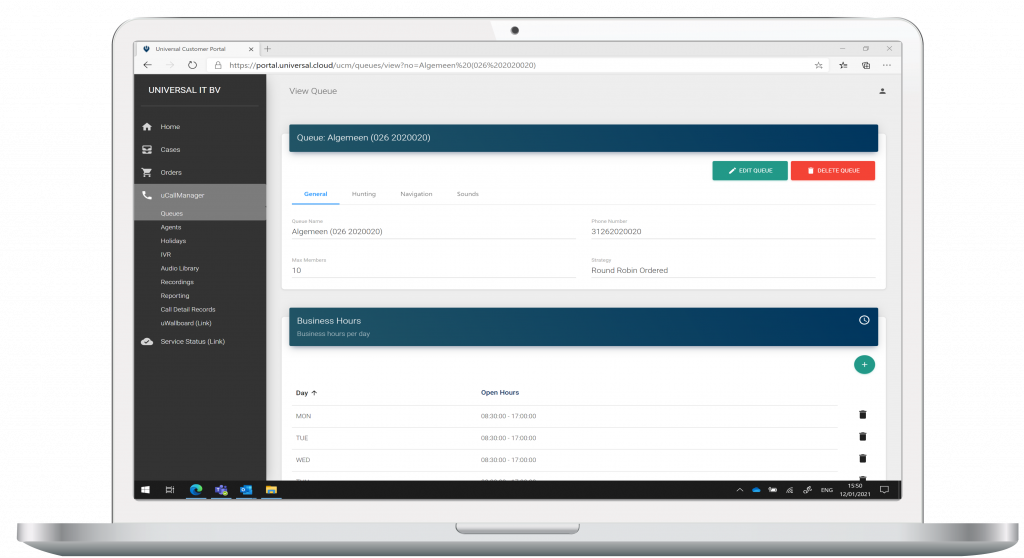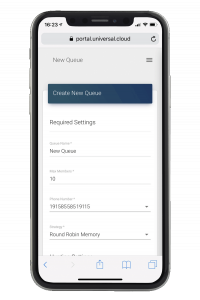 uCallManager Huntingmethods
uCallManager provides various methods for the hunting of agents. Round Robin, serial, routing attendant, and routing based on priorities are methods that can be applied. Setting the appropiate huntingmethod not only ensures the best level of service but also ensures that calls are distributed to the best suitable agent.
A web-based user-friendly wallboard for realtime insights on the status of your queues. Displaying calls in queue, agents in call and available agents in a queue. This web based wallboard for MS Teams is available on any device. allowing you to view your queues from any location on any device.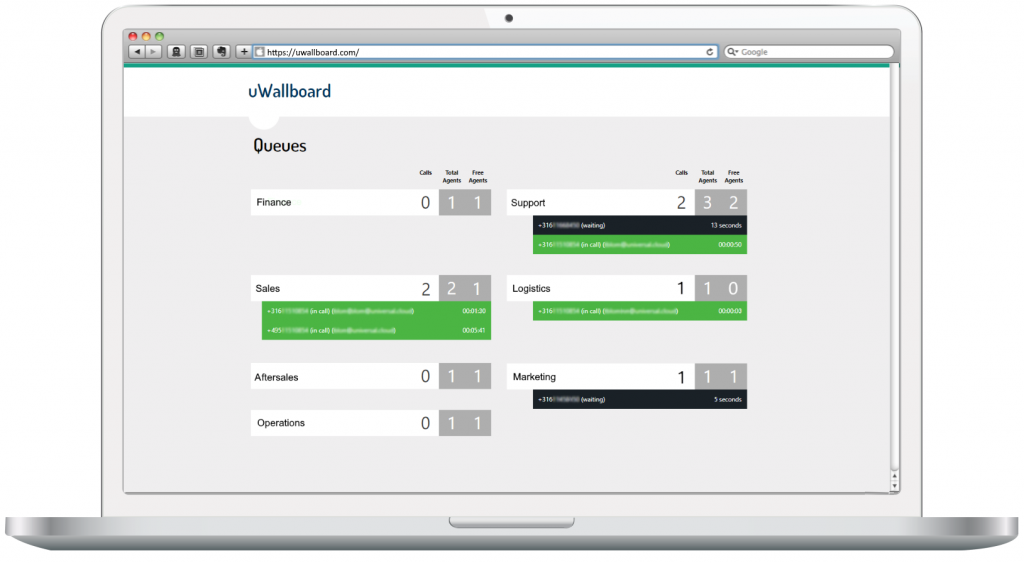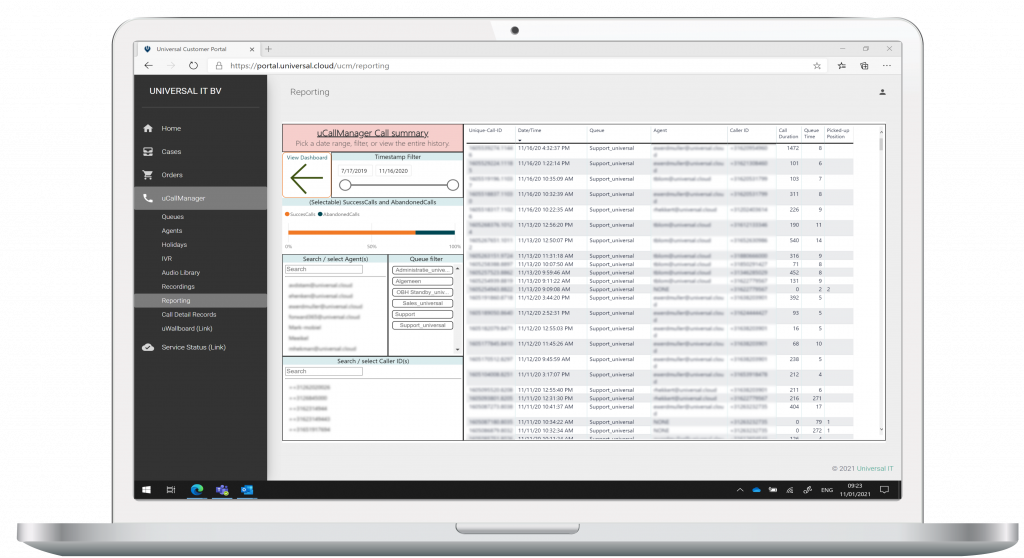 uCallManager provides a comprehensive (power BI) report that gives you real-time insight into service levels, call volume and call service levels, even from your mobile device. 
Ready For A 'Quick Scan' Session?
A free 30 minute introductory call to discuss your needs.