KBA-01277-V1S8
Problem
On occassion an invalid entry may get into Outlook's automcomplete list (suggestion drop down list in the "To" bar of a new message).
When trying to send an email to an entry like this you will receive a non delivery report that mentions something like "To: "user@domain.com" <IMCEAEX-_O=MS-Hosting_ou=Exchange+20Administrative+20Group+20+28FYDIBOHF23SPDLT+29_cn=Recipients_cn=>" in the details section.
Please follow the instruction below to remove this entry from your autocomplete list.
Solution
1. Start a new email.
2. Start typing the name of the invalid entry in the "To" field until you see the entry appear in the drop down list.
3. Hover over the entry with you cursor, an "X" will appear at the end of the line.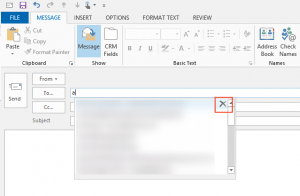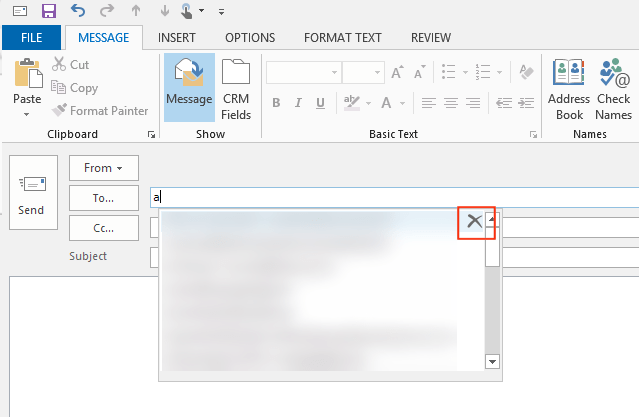 4. Click the "X" to remove the entry from the autocomplete list.
Additional Comments
The next couple of times you want to send a message to the person that was just deleted from the autocomplete list you will need to either select the contact details from the corporate address book or type in the email address by hand.