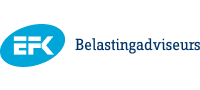 EFK Tax Advisors is a tax consultancy for government organizations. They advise provinces, water boards, and municipalities in the field of VAT, corporation tax, and payroll taxes. Henk Roosendaal is one of the shareholders and directors – and the initiator of the company's connection with Universal.


"In 2012, we wanted to set up a knowledge base for government organizations in a highly secure cloud environment. In recent years, this knowledge base has evolved into a Tax Management System. In a well-secured cloud environment, we perform spot checks on the government organization's data and the requested information is exchanged through the platform.
We help municipalities to learn from each other and independently upload documents to the knowledge base. Municipalities have their own protected area so that they can create their tax file and workflows themselves, but also in cooperation with us.
We chose to work with Universal who are responsible for the technical infrastructure of the cloud-based SharePoint solution. An important reason for working with Universal is that the government has very high security requirements: the data must be in the Netherlands, on Dutch servers, and everything must be governed by Dutch law. Universal has two data centres in the Netherlands and they have all the accreditations and certifications to secure data.
The infrastructure Universal delivered proved to be scalable and secure, which were two important requirements. Both the team here and our clients are extremely pleased with our new Fiscal Management System – a unique proposition for government organizations.
The fact that our environments and those of our clients are connected makes it possible to work together even more effectively. During the pandemic, when everyone had to be able to access the data from home, the system proved to be a hit".
"I find Universal's service personal and involved. I don't ever feel that I'm a number. My needs are recognized and acknowledged."
Henk Roosendaal - EFK Tax Advisors