Teams licensing changes per Oct 1
Microsoft recently announced here  that it will decouple Teams, its popular communication and collaboration platform, from its Microsoft 365 suites in the European Economic Area (EEA) and Switzerland. This means that customers who buy one of these suites will have the option to chose a bundle with or without Teams license, starting at October 1. 
Why is Microsoft changing Teams licensing?
This is a response to the antitrust investigations of the European Commission and the complaint of Slack, a competitor of Teams. Slack claimed that Microsoft abused its dominant position in the market for productivity software by bundling Teams with its suites, making it harder for other players to compete. Microsoft agreed to take this step to address the regulators' concerns and to provide more choice to customers.
What does this mean for you as a customer?
If you already have a Microsoft 365 suite with Teams included; during your subscription term there is no change and you can continue to use Teams as usual.
However, if you want to buy a new business or enterprise suite or renew your current suite after October 1, 2023, you now have options. You can choose a Business suite without Teams at a lower price (€2 less per month or €24 less per year). You can also buy Teams separately at a list price of €5 per month or €60 per year. 
Enterprise license bundles require additional Teams license
Customers with Enterprise licenses (E3/E5) need to purchase an additional Teams license upon renewal of their subscription. The Enterprise bundle that includes Teams is no longer available for net new customers or for customers that renew their license after October 1, 2023. 

Our advise is therefore: make sure your licenses are the best match for your organization, any doubts or questions? Schedule a meeting with us to evaluate your licenses, we are here to help.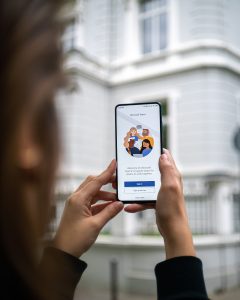 The power of Teams for communication and collaboration: Universal's vision
A bundle that includes Teams can offer many benefits for customers who want to improve their communication and collaboration. Customers can use Teams to stay connected and productive with their coworkers and customers from anywhere and any device. Teams is compatible with Microsoft 365 suites, which provide customers with access to popular productivity apps like Word, Excel, PowerPoint, Outlook, and more. Customers can use these apps within Teams to create, edit, and share documents easily.

But, Teams also seamless integrates with the Universal Communications Suite. You can use MS Teams as your unified communication and collaboration platform, and leverage the power of AI to enhance your customer interactions. You can use the integration between uCallManager, uWebChat, and MS Teams to streamline your workflows and data. You can use features like single sign-on, data synchronization, cross-channel transfer, and more to provide a consistent and personalized customer service.
Use uWebChat to add live chat to your website and connect it to MS Teams with advanced options for:
AI driven live chat for improved service quality and efficiency
Advanced agent hunting guarantees high servicelevels
Text to speech and real time translation in any world language
Security & compliancy; chat archive can be stored in your company OneDrive only
You can use uCallManager to manage your inbound and outbound calls from MS Teams with:
Advanced call routing for Teams 

Integrates with Dynamics, Salesforce, Topdesk and other applications to recognize callers
Interactive Voice Response menu's
Call recording for Teams
Call analytics & Power BI dashboards
Automated call transcripts
Microsoft Shifts integration
Modern innovative AI based customer service
By combining MS Teams with uCallManager and uWebChat, you can offer a modern and innovative customer service solution that meets the expectations of today's customers. You can also reduce your costs and complexity by using a cloud-based solution that works with your existing infrastructure. If you want to learn more about this combination, click on the logo to visit the website.