Bye bye Universal Hosted Skype for Business, you were great
A new milestone in the Universal Cloud; we have now reached the end of the Skype for Business era. After the succesfull migration of our SfB customers to Teams, we will shut down the last Skype for Business servers later this month. Skype was good, but Teams is so much better!
From Office Communications Server to Lync to Skype for Business to Teams. That is our long history with Microsoft  communications services. From our perspective, with Teams, the real game has just started. 
Where Office Communications brought chat to the communication system, Lync made it possible to use it as a telephony system and Skype for Business brought the advanced features such as response groups and conferencing features. But of all that looks like nothing at all, compared to the power of Teams. But still, Skype for Business has been robust, powerful, steady and enabled us to interact with contact center solutions like AnyWhere365. Hundreds of organizations were facilitated by our hosted Skype for Business service. The 100% uptime will end now. Thank you Skype for Business, you have been great. 
Hi Teams, you are even greater
The response of customers that migrated to Teams Phone System is amazing. The intuitive client, the solid performance, the powerful document management options and the integration with other Office apps like OneDrive, Viva Connection, Exchange and SharePoint makes Teams a powerhouse. But where it really gets even greater is by the 3rd party integration options. This is where the Universal fun really starts.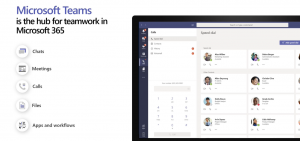 Hi uCallManager, you make Teams the greatest
The power of Teams is Power Automate. With Power Virtual Assistent for automated answers and skill based routing and the powerful Graph API that empowers organizations like Universal IT to add features to the great Teams application to make it even greater. That is uCallManager is made for. Adding features you need to empower your organization with dashboards, extended IVR, wallboard, realtime web chat that can go from chat – to call – to videocall, shift queues, callrecording, Bring your own trunk and more data driven solutions. No new client, no new work processes but added value directly to Teams. Meet uCallManager for Teams and start your free trial today!
Web-based user-friendly wallboard for real time insights on the status of your queues. Displaying calls in queue, agents in call and available agents in a queue.
uCallManager provides a comprehensive (power BI) report that gives you real-time insight into service levels, call volume and call service levels, even from your mobile device.
.
With uCallManager, conversations can be recorded and viewed in the uCallManager portal. Conversations are logically organized and can be used for training or compliancy purposes. 
Call routing based on availability information (presence), multiple  huntingmethods, prioritization in agents,
Chat has become the most popular way of contacting an organization. For web shops, customer contact centers and support desk it is extremely relevant to add the option to chat with your customers.
No limitations to your IVR menu in uCallManager and of course all you need to build and manage your IVR menu's with welcome messages, music on hold and broad call routing options.
The ultimate communication solution is the one that fully integrates with your business applications; with adaptive card in Teams displaying all the contextual information directly from your CRM, ERP or support application
No need to port your phone numbers, just bring your own trunk! We will add this trunk to the uCallManager platform. Ideal for organizations with volume contracts or partners that add uCallManager to their portfolio.