KBA-01378-S6F9
Summary
The set Skype For Business Response Group manager can manage the Response Group on a webpage. The available options are:
– Setting the open and closing times.
– Setting a forward option during closed times.
– Setting the On Hold music.
– Configuring of a IVR
– Uploading Voice prompts.
Please use Internet Explorer when configuring, in order to experience the best compatibility. The Skype for Business ControlPanel uses Silverlight, which is a graphical plugin for Internet Explorer. Read more about, or get Silverlight: http://www.microsoft.com/getsilverlight/Get-Started/Install/Default.aspx
Login into the Response Group Configuration Tool
1. Open your web browser and visithttp://Skype.ControlCloudService.com, click the Response Group Manager tile.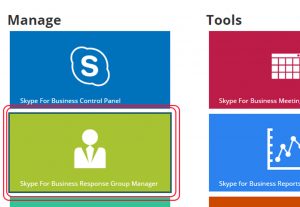 2. On this page you can manage the Response Groups that your account manages.
Workflows
1. When logged in, you can manage the workflow for a group.
2. There are two types of workflows:
Hunt Group: This is a simple response group where available agents get called after the welcome text. There are options like opening times and waiting music available.
Interactive workflow: The Interactive Response group work like hunt groups but add extended functionality like adding an IVR that could be two levels deep, each level offering 4 answer options.
Agents, Queues and Groups
When calling a Response group, you should always end up calling someone in an Agent Group, but before that you will start in a Queue. The queue will play the queue music and decides the maximum waiting time, and queue positions.
The response group hunts for an agent when you call the assigned number. The agent will be hunted in the order that is configured in the group settings. Agents can sign in a response group if the group setting is set to "Formal". If they do not sign in a group, they will not receive calls by the response group. They can also sign out again, to go lunch for example. If the group setting is set to "Informal", the agent is always used to hunt, if the personal status is Available in the client.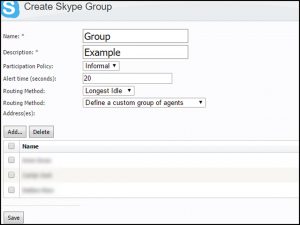 The queue tells the Response Group which group of agents is linked to the response group. This queue can also hold extended configuration options that enable overflow settings or specify what the escape route is of a call when there is no agent available for X time. There can be a configuration that enables overflow after 2 minutes, to another group (e.g. reception), that will take the call instead.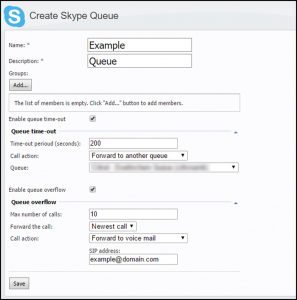 When creating a Response Group, you should start with building the Agent Groups, which you can assign to a Queue, which is linked to a Response Group.
Set a Response Group to call a Queue in the Respone Group Manager: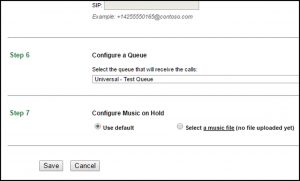 Adding Voice prompts to Skype Response Groups
The Skype Response group manager has the option to add and configure voice-prompts to a Skype Response Group. Microsoft has the following requirements set for the files:
– 8 or 16 bit file
– Linear pulse code modulation (LPCM), A-Law or mu-Law format.
– Mono or Stereo
– 4MB or less
You can submit and use Audiofiles in the Response Group Manager.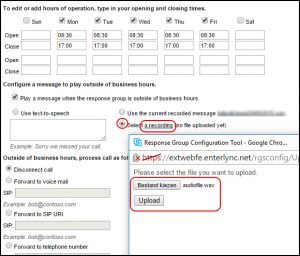 The optimal performance of wave files is when they are 16 bit, 16 Khz, mono files.